About Printmaking
An introduction to collagraph
Most printmaking processes involve the creation of a printing plate that is inked and passed through a printing press in order to transfer the image from the printing plate onto paper. These are all manual steps and the resulting image is an original print – there is no technology or automation involved. By repeating the inking and printing steps the artist can make multiple copies of the print. By choosing to limit the number of prints 'pulled' from a plate, a limited edition is obtained.
For a collagraph print the printing plate is typically made from a piece of cardboard, often the kind used for making picture framing mounts. An image or design is created by collaging materials onto the plate or by cutting into, scoring or peeling away the surface layers of the cardboard. Using materials that do not add a lot of depth to the plate is usually the most effective – materials such as textured papers, adhesive tapes, wood veneers, PVA or acrylic mediums all work well. Before inking the plate it is often sealed with a layer of shellac or varnish, which helps with the inking and printing process.
The variation of textures is revealed when the plate is inked and wiped ready for printing. The different materials hold ink to a varying degree and it is this which gives the print it's tonal qualities and textured effects.
Examples of making a simple collagraph plate using a variety of adhesive tapes: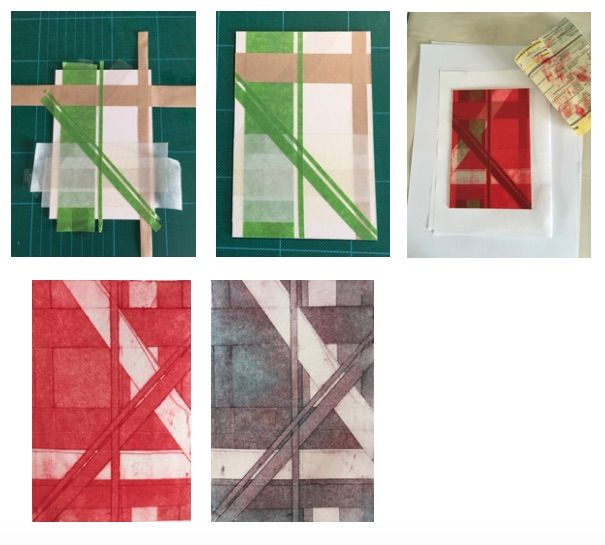 In the following example the surface of the plate is cut and peeled away which holds more ink and results in area of darker tone.
The printing process relies on the rollers of the printing press pushing dampened paper into the surface of the plate allowing the ink to transfer onto the paper.